FESTIVALS AND EVENTS IN THE GARD
Agenda – Animations – Évènements 2021
There are many events throughout the year, including flea markets, art and music festivals. In season, there are other events such as night markets, local festivities, notably the volo biou festival on 14 July in St Ambroix, which is not to be missed, and the fête votive on 15 August. And to treat your taste buds, you can stroll through one of the region's markets and taste the flavours of our land.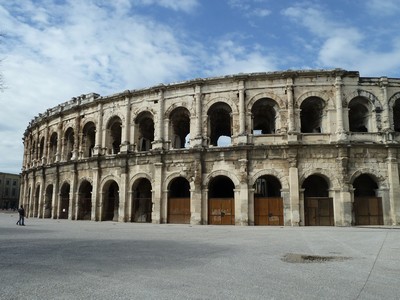 Jeux Romains dans les Arènes de Nîmes
PLONGEZ DANS UN VOYAGE EXCEPTIONNEL AU COEUR DE L'HISTOIRE
Remontez le temps et revivez les légendaires ludi (jeux) dans les Arènes comme auraient pu les vivre les habitants de Nemausus (Nîmes) il y a 2 000 ans : pompa militaire, course de char, légionnaires romains, celtes, cour impériale, gladiateurs, auxiliaires, cavaliers : tous seront présents pour cette grande fête de la romanité.